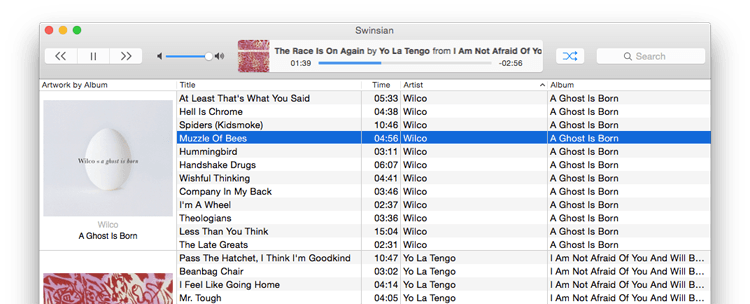 Für viele das mistigste Stück Software das Apple je hergestellt hat, iTunes. Mir taugt es soweit ganz gut, da ich es eigentlich nur zur Musikverwaltung nutze. Aber all jenen die gerne ein iTunes hätten ohne die ganze Überfrachtung, die in dem Programm mittlerweile steckt, dürfte Swinsian vielleicht eine Alternative sein.Was es kann:
Folder watching
iTunes library importing
Album art fetching
Global keyboard shortcuts
OS X and Growl Notifications
Duplicate track finder
Last.fm scrobbling
Separate playlist windows
Regex search
Find and replace tag editing, with regex support
Smart playlists
Library stats
Playback over AirPlay
Automatic Podcast downloading
Applescript control
Supports Flac, MP3, AAC, ALAC, Ogg Vorbis, WMA, WAV, Opus, AC3, AIFF, MusePack, and APE.
Somit sogar einiges mehr als iTunes und die essentiellen Smart Playlists sind auch dabei. Sehr schön das sich hier noch seperate Playlist Windows aufmachen lassen, das vermisse ich in iTunes seit einiger Zeit schmerzlich.
Wenn man nun noch seine iOS Geräte damit mit Musik bestücken könnte wäre es für mich einen Umstieg wert, solange das nicht gegeben ist, wäre das für mich doppelte Arbeit und somit die 19, 95$, die dafür verlangt werden, nicht wert.
(Via Barbnerdy)